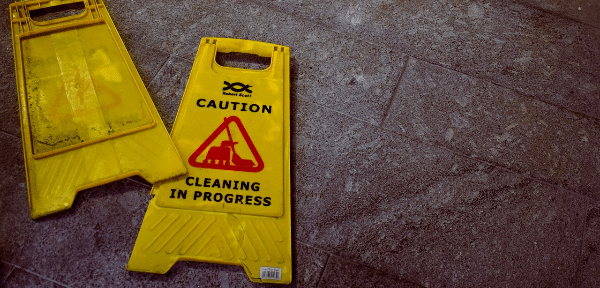 Slip-and-fall accidents can disrupt not just your day but also your life. As someone who has been injured in a slip-and-fall accident, you have every right to seek compensation.
Filing a premises liability claim could help you cover your medical bills, ongoing treatments, and other damages. But you can only be compensated if you report and file your accident on time.
At Hill & Moin LLP, we help injured slip and fall victims report their cases, file their claims, and recover fair compensation. We want to help you understand New York City's accident deadlines and report your accident on time.
This guide will give you a comprehensive overview of the reporting requirements for slip-and-fall accidents in New York City.
Time Limits for Reporting Slip-and-Fall Accidents in New York City
After a slip-and-fall accident occurs, you may feel too overwhelmed by your fall injury to focus on legal matters. We understand how easy it can be to miss the case report deadlines while focusing on your recovery.
Sadly, missing legal deadlines could interfere with your receiving compensation for your injuries. But knowing when to report a slip and fall case could increase your chances of receiving financial aid for damages.
The unique circumstances of each case greatly influence the time limit for reporting what happened. Property ownership is one factor that dictates report deadlines in New York City. Below are the deadlines for different types of property ownership.
Filing for an injury sustained on private property
A slip-and-fall accident on private property must be filed before the New York statute of limitations runs out. The deadline for your case is counted from the day of the incident, but it would be best to file as soon as possible.
Late filing can reduce the credibility of your slip and fall claim. For instance, if you have not received medical treatment within 7 months for an injury you claim was caused by a property owner's negligence 7 months ago, you may be less likely to get the compensation you hope to win.
Delay in treatment may make it difficult to prove that your injuries are related to your fall. What's more, the party liable for your accident, or their insurer, may argue that your injuries are far less serious than you claim
Notifying municipal entities of a slip and fall claim
New York City has many municipal entities that oversee city operations and services. A few of these include:
The City of New York (A municipal entity that is governed by the Mayor's Office and the New York City Council)
New York City Police Department (NYPD)
The Fire Department of New York (FDNY)
NYC Department of Transportation (DOT)
The New York City Department of Parks and Recreation
The New York Department of Sanitation (DSNY)
New York City Housing Authority (NYCHA)
What if one of these municipal entities is liable for your injury? The statute of limitations is shorter for accidents on New York City property, such as sidewalks or public parks. The legal time frame to file a personal injury claim against a municipal entity differs from the deadline for filing a lawsuit.
To be more specific, you are required to follow the timelines below:
Notice of Claim: This is a formal notification to the municipal entity of your intention to pursue a claim against them. You are required to file a Notice of Claim with the municipal entity responsible for the property where your slip-and-fall accident happened.
Filing a lawsuit: After filing the notice, you must wait for a period of time, as stipulated by law, before filing your slip and fall lawsuit against the municipal entity.
Pursuing legal action against public authorities
Public authorities like the NYC School Construction Authority and the Port Authority of New York and New Jersey may have shorter statutes of limitations than municipal entities. If so, then when you have a potential claim against these entities, you also have less time to file a Notice of Claim and the corresponding lawsuit.
Other public authorities, like the Metropolitan Transportation Authority (MTA), may have slightly different notice requirements. Before preparing your lawsuit or Notice of Claim, speak to an experienced lawyer who will know the current statutes and time limits.
Reporting a slip and fall case to the State of New York
The legal structure for premises liability claims against the State of New York is quite extensive. These cases are subject to the Court of Claims Act.
The Court of Claims Act is a set of rules and procedures outlining how people can file claims against the state. This Act gives you two main options when you make a claim against the State of New York, described below.
File a verified claim
Under this option, you are required to serve and file a verified claim, describing the details of the accident and your basis for filing a claim against the state. This option allows you to begin the legal process sooner and possibly reach a quicker conclusion by serving and filing your claim.
 File a Notice of Intention and a verified claim
You have the option to file a Notice of Intention after a slip-and-fall accident. This document serves as a preliminary notice to the state, letting them know you intend to pursue compensation for a slip-and-fall accident. After filing the notice, you may be allowed additional time from the date of your incident to file and serve a verified claim against the State of New York.
The law also specifies that you may sometimes make a motion to treat a Notice of Intention as an actual claim. This may be possible when the Notice was served on time, but the claim was not.
As you can see, the strict procedures for filing a slip and fall claim with different entities can be quite overwhelming. We advise slip and fall victims to seek the help of our knowledgeable personal injury attorneys.
If Hill & Moin takes on your case, we can help ensure that your documents are correctly prepared and filed in compliance with the Court of Claims Act's requirements. And if your case needs to go to trial in the Court of Claims, we can help you fight for compensation.
The Statute of Limitations for Special Circumstances
While the personal injury statute of limitations of a few years is the general rule for slip and fall claims in New York, there are some exceptions. Special circumstances may allow for an extended deadline for fall victims. Understanding the unique circumstances that might apply to your case can help you and your personal injury lawyer build a compelling claim.
Filing a slip and fall claim for minors or disabled individuals
When minors or disabled persons are involved in slip-and-fall accidents, the statute of limitations differs from other cases. Here are some specific provisions:
For minors: When someone under 18 years of age is involved in a slip-and-fall accident, the statute of limitations "clock" doesn't start ticking until the minor turns 18. This means the minor may have a few extra years to file a personal injury lawsuit for injuries sustained.
For disabled people: The statute of limitations can be modified if a disabled person is involved in a slip-and-fall incident. Most of the time, the modified timeline may depend on the type of disability and the circumstances of the case. In some cases, the statute may be temporarily paused until the disabled individual is deemed capable of pursuing legal action. The courts may consider factors such as the individual's mental capacity and ability to understand his or her legal rights.
Reporting your slip-and-fall accident when you cannot identify the liable party
Generally, the statute of limitations counts down a few years from the date of your incident. However, in situations where the defendant cannot be identified, this time frame may present a challenge to your compensation claim.
Fortunately, the law acknowledges that an injured party may require extra time to gather evidence and uncover the identity of the responsible party. If it is unclear who this may be, you and your lawyers will have to work diligently to identify them.
Identifying the person responsible can be especially difficult. Here are a few reasons why you may have trouble identifying the responsible party:
Public spaces like retail stores and malls may have multiple parties responsible for the property; this makes it difficult to pinpoint a single owner
Property management companies or landlords may be responsible instead of the property owner, adding complexity
Some property owners may use corporate entities that hide their direct ownership
The reporting deadline for a wrongful death claim
In tragic situations where slip-and-fall accidents cause a fatality, the statute of limitations may differ from the general personal injury statute. Wrongful death claims are often filed on behalf of the deceased person's surviving family members, seeking compensation for the financial losses incurred.
The specific timeline for filing a wrongful death claim in New York is generally counted from the date of the individual's death. This allows surviving family members some time to grieve their loss before pursuing legal action through a personal injury lawsuit.
The Benefits of Filing a Slip and Fall Lawsuit Early
The sooner you file your personal injury claim, the more beneficial it can be for you. A delay in pursuing your claim may reduce the evidence and harm your chances of receiving compensation.
Promptly reporting a slip-and-fall accident is crucial for several reasons:
Preserving evidence: When you file a claim early, the fresh evidence available makes your case more convincing. Over time, witnesses' memories may fade or the property owner may fix the hazard that caused your injuries.
Medical attention: Getting medical attention as soon as possible is important. These medical records could serve as evidence of the injuries sustained in the accident.
Notifying property owners: Reporting the incident notifies the property owners of the slip-and-fall accident, which might prompt them to address the hazard. In this way, future accidents are prevented.
Compliance with legal deadlines: Failure to report slip-and-fall accidents within the required statute of limitations window could jeopardize your ability to pursue compensation.
Contact a New York City Lawyer at Hill & Moin LLP Today
After a slip-and-fall accident has occurred, you may want to pursue a personal injury claim or lawsuit. This task can seem intimidating, though, since there are many filing requirements and deadlines. As medical providers provide treatment and expect to be paid, the pressure to report your case on time can increase.
Our knowledgeable New York City lawyers want to relieve your burden and help you report your accident on time – in compliance with local premises liability laws. If need be, our lawyers are even prepared to go to trial to secure fair compensation.
Contact a slip and fall lawyer at (212) 668-6000 to schedule your initial free consultation today and learn about your Personal Injury Recovery SolutionsⓇ.
Don't wonder about your rights!