How Do You Quantify Emotional Distress Damages in NY?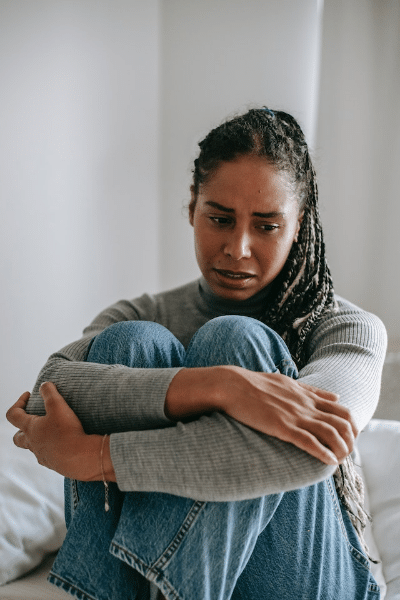 Life becomes more difficult after a severe injury. If you were hurt in an accident, we know you must have experienced emotional and physical pain. Seeking pain and suffering damages could help you recover your financial losses and secure stress-relieving solutions for your future.
When you turn to Hill & Moin for help, it feels like relying on a personal injury lawyer in your own family. Because we empathize with your situation, so we focus on recovering more than compensation for the medical bills associated with your physical injuries. We want our clients to know their psychological health is also of utmost importance.
Yet, who can place a price on psychological losses after an accident? After all, pain is subjective. No one understands your exact feelings because every accident victim's experience differs.
Understanding the Impacts of Emotional Distress
Traumatic experiences, such as those that result in lingering physical pain, can cause emotional distress. For example, one 2023 study found traumatic brain injury (TBI) patients often face depression, anxiety, and sleep problems. Another study confirms that psychological trauma relates to the following aspects of daily life.
Housing and economic circumstances
A principal mental disorder in primary care settings is harmful alcohol use and dependence. Economic crises, such as those caused by costly car accidents, can affect behavioral patterns – how often the victim consumes alcohol, for instance.
One review of empirical evidence found a correlation between financial problems and alcohol-related health conditions. The research suggests that unemployment and lost earnings can worsen drinking problems. If sufferers spend more money on alcohol or lose funds due to alcohol-induced irresponsibility, their economic situation can worsen, setting a vicious cycle in motion.
Social interactions
Depression often accompanies pain and suffering. You might begin to feel low because of the physical and emotional pain caused by your condition. Material losses can also lead to stress, feelings of worthlessness, and other depressive symptoms.
Scientific studies reveal that individuals suffering from depression are more likely to isolate themselves. This habit, in turn, can damage your relationships.
Family life and supportive care relationships
Do you need more help from your family members or friends after your accident? It is not your fault, but pain and suffering can result in undesirable behaviors like uncooperativeness, shouting, or even lashing out violently.
You might need professional care while you recuperate from your injury. Yet, some nursing homes and healthcare centers lack the training, resources, and time to address the consequences of emotional pain. Unequipped caregivers might depend on "the overuse of pharmacological interventions," a practice associated with neglect and abuse.
How do you know whether you are experiencing emotional distress? Some warning signs are:
Less interest in people, activities, or items since the accident
Reduced energy
Aches and pains that seem unrelated to your injury
Feelings of hopelessness or helplessness
Increased smoking, drinking, or drug use
Excessive feelings of worry or guilt
Suicidal thoughts or crying spells
Difficulty readjusting to home or work duties
Sleeping or eating too much or too little
These symptoms can culminate in post-traumatic stress disorder. However, all pain and suffering are serious. Consult a medical or mental health professional if you suspect that a preventable accident caused or worsened your issues or that of a loved one. Personal injury lawyers can help you pursue non-economic damages for your losses.
Holding the Liable Party Accountable
One purpose of a personal injury lawsuit is to recover damages, also known as losses. A New York personal injury lawyer can seek two types of damages on your behalf: economic and non-economic.
Economic damages
Economic damages are financial losses. For example, common examples of a New York City car accident are:
Property damage (e.g. repair costs for your vehicle, landscaping fees to fix a lawn)
Medical treatment (e.g. emergency room treatment for a broken bone, rehabilitation therapy for dislocated joints)
Medication bills (e.g. painkillers)
Lost wages (e.g. compensation for missed work and sick days)
The liable party's insurance company could pay for your economic losses if your car accident was the other driver's fault. For minor car accidents or single-vehicle wrecks, an insurance adjuster from your insurance company will estimate the value of the damage.
How much compensation are you due? Pain and suffering damages are easier to calculate with the help of a New York personal injury attorney.
Contact our New York City law office for a free car accident case review. Our legal team can evaluate your medical records, repair estimates, and employment documents to determine whether your settlement offer is fair.
Non-economic damages
New York courts must determine pain and suffering damages for accident victims. How do you put a dollar amount on pain and suffering?
In a personal injury case, non-economic damages can include intangible losses such as:
Pain and suffering
Inconvenience and diminished life enjoyment
Emotional distress
Loss of familial relationships
In the next section, you will learn two methods of calculating damages for pain and suffering.
Calculating Pain and Suffering Damages
Varying methods of calculating non-economic personal injury claim damages exist. Several factors could influence how your emotional damages are calculated, including where you live. Two methods used in New York are described below.
Multiplier method
In the multiplier method, pain and suffering damages are related to economic damages, like medical expenses. Your experience of pain and suffering is assigned a number, usually between 1.5 and 5. The more severe your physical and psychological injuries, the higher the number should be.
For instance, a severe traumatic brain injury victim might receive a multiplier of 5. On the other hand, someone who suffered a mild TBI might get a lower number, like 1.5 or 2. Then, the number is used to multiply your settlement.
Suppose you are awarded $40,000 for accident losses. If your pain and suffering multiplier is 2, your compensation will be $80,000. However, a multiplier of 5 would make your suffering worth $200,000 financially.
Per diem method
Another method to calculate pain and suffering is per diem, meaning "for each day" in Latin. The per diem method compensates a specific dollar amount for each day of pain and suffering. Courts consider both your past suffering and your life expectancy if your pain is expected to continue.
To illustrate, suppose a New York City car accident 1 year ago caused severe injuries. You suffered constant pain and emotional distress. Personal injuries could seek non-economic damages for 365 days' worth of pain and suffering under the per diem method.
Maximizing Emotional Damages
Of course, each method to calculate pain and suffering has pros and cons. As a law firm that treats our clients like family, we want your pain and suffering damages to secure your future. So, instead of using the same methods for everyone, we consider the personal circumstances of your case to determine how best to recover compensation in New York courts.
Physical pain
No one doubts that accident victims can suffer great emotional distress and physical pain. The problem for many people, though, is proving pain and suffering.
Documenting your experiences is one way to strengthen your personal injury case. At Hill & Moin, we can let you know how to do this and guide you each step of the way.
Our experienced personal injury lawyers are ready to help you maximize your compensation. Our team can help you substantiate your pain and suffering claims using strategies such as the following.
We might ask you to:
Keep a journal of your daily life, detailing your emotional distress and physical pain. For example, you can rate your pain and suffering on a scale of 1 to 10. You can also describe how your injury relates to your appetite, emotions, and sexual relationship with your partner.
Take pictures of your injuries regularly, recording improvements and setbacks. Record any difficulties your injuries create for you at work. You can also keep copies of performance reviews and attendance records to show how your pain and suffering affect your ability to earn a living.
Avoid posting anything about your accident on social media. Even innocent comments or photographs can hurt your pain and suffering claim.
Medical bills
Winning a personal injury lawsuit involves more than talking about your emotional distress. A strong pain and suffering claim must demonstrate the severity of your injury. A personal injury lawyer can help you get your pain and suffering damages calculated properly.
We can handle challenging tasks to support your personal injury claim, namely:
Locating and identifying the liable party: Some personal injury cases fail because the plaintiff sued the wrong person. It is always a good idea to seek legal counsel before filing a pain and suffering claim. Schedule an appointment with our New York office at your earliest convenience to learn who is responsible for paying your pain and suffering damages.
Requesting copies of your psychiatric and medical records: When recovering from injuries, administrative tasks can be frustrating. You might not know how to call, or you can reach a dead end after being on hold for hours. Let our legal representatives do the hard work of obtaining your documentation.
Acquiring testimony from a medical professional: The opinions of doctors and mental health professionals are well-respected in many pain and suffering cases.
Comparing the results of similar New York law cases: Justice is about fairness. Insurance companies may try to take advantage of you if you don't know what your pain and suffering damages should be. Why take the risk?
Defining your pain and suffering in legal terms: How you communicate the extent of your injury can significantly impact the success of your pain and suffering claim.
Predicting future medical expenses: Insurers might rush to settle if they suspect your injuries will continue to generate medical bills. Our satisfied past clients can appreciate our dedication to securing their future. We look at how injuries will affect you long-term when calculating pain and suffering damages.
Determining whether the per diem or multiplier method suits you: Find out about the pros and cons of each technique during your personalized case review.
Negotiating better compensation from insurance companies: Experienced lawyers can use their expertise in dealing with insurers.
You might be wondering what you can do while you wait for your personal injury case to be resolved. Stressing about legal matters can worsen your emotional distress, so take care to prioritize your health instead. Let us deal with the tedious paperwork and complicated tasks in the meantime.
Attending your doctor's appointments and therapy sessions will aid in your recovery. Share your pain and suffering with your doctors and therapists. Doing so will also help prove to New York courts that your pain and suffering are real.
Find Relief With Our Personal Injury Recovery SolutionsⓇ
A personal injury lawyer can quantify your emotional distress damages. Relying on Hill & Moin is like entrusting your legal concerns to an experienced lawyer in your family. Our team of attorneys has more than 50 years of experience with New York law.
Did someone else's negligence result in an accident? When your injury is not your fault, you deserve compensation for your economic losses and emotional distress.
In New York, you have a limited time to collect compensation for your injury. Once time runs out, you might lose your opportunity to recover pain and suffering damages.
Learn more about getting your pain and suffering damages calculated today. If you are in New York City, we welcome you to visit our law office in person. You can also message us, and we will contact you as soon as possible.
During your free consultation, the team members of the Hill & Moin New York law firm want to hear how your accident injuries impact your daily life. You will also have a chance to learn about what we call Personal Injury Recovery SolutionsⓇ.
Start pursuing the pain and suffering damages you deserve. Our legal representatives are waiting to take your call at (212) 668-6000. 
Don't wonder about your rights!