What to Do If You Slip and Fall in a Store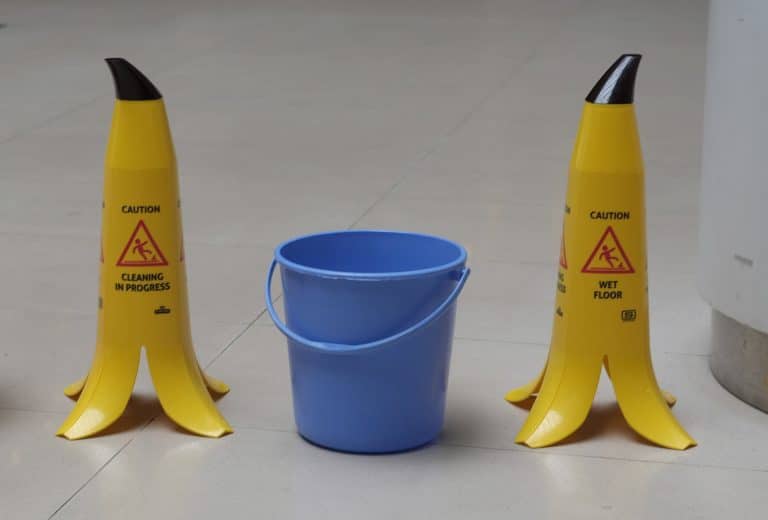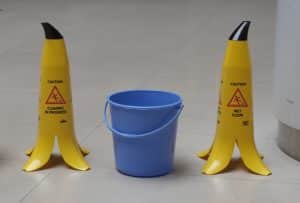 Store owners have a legal obligation to everyone who walks through the doors of their businesses. Aisles, walkways, and parking lots should be free of hazards. When stores are careless and do not clear away unreasonably dangerous clutter, customers could slip and fall and get seriously hurt.
If you were injured in a store, you might be entitled to compensation for medical expenses and other damages. A New York personal injury lawyer can help you hold the store owner or another negligent party accountable for your losses.
Hill & Moin has over 40 years of experience as a law firm. Over the years, we have seen much success in handling slip-and-fall accidents in New York. Our legal team knows what is needed to build a strong case for our clients.
We care about our clients so much that, when you choose our law firm to represent you, it's like having "a lawyer in the family." Call us today at (212) 668-6000 to learn more in a free case evaluation.
Causes of Store Slips and Falls in New York City
Various kinds of environmental conditions could crop up at any time in a busy store. These may be obstructions, spills, or other dangerous conditions that can cause someone to slip or trip.
Common causes of slip-and-fall accidents include:
Unattended slippery floors: When water, another liquid, food, or something else spills onto the floor of any business, employees should clean it up right away. When a spill is left unattended, customers could slip on the slick surface.
Lack of warning signs: Recently mopped floors, environmental factors such as snow or rain, or leaking refrigerators or A/C units can all cause slip-and-fall hazards. Employees should place a "wet floor" warning sign so that customers know that the floor is wet and slippery.
Inventory blocking aisles: Oftentimes, businesses stock inventory after the store is closed. However, sometimes inventory is stocked during store hours with large pallets and boxes blocking aisles, increasing the risk of slip-and-fall accidents.
Flooring defects: Any flooring defects should be quickly repaired. Broken tiles, torn carpeting, loose rugs, and broken steps can all be tripping hazards.
Inadequate lighting: Dim or poor lighting can mask dangerous conditions that a person could better see if the area were sufficiently illuminated. Debris in the aisles, spilled liquid, and cracked flooring can be difficult to spot without proper lighting.
New York City Store Parking Lot Slip-and-Falls
Not all slip-and-falls occur inside a store. Sometimes someone could get hurt in the parking lot when entering or leaving the building. New York store owners have a legal duty of care to maintain not only their buildings but the outside of their business as well.
In winter, New York is prone to snow, ice, and other adverse weather conditions. When store property owners fail to clear and salt their parking lots in a timely manner, customers could slip and fall.
Other causes of parking lot accidents include:
Uneven pavement and potholes: Weather, poor maintenance, and general wear and tear can take a toll on the pavement in a parking lot. A crack or pothole in the pavement surface could cause a person to trip and get hurt.
Shopping carts and other items: Employees are not always as diligent as they should be about maintaining a parking lot. You have seen shopping carts, packaging, food waste, and other items littering a parking lot – which all add to hazardous conditions.
Inadequate design: Parking lots are not always designed in a way that makes them safe for pedestrians. Poor designs include blind turns and corners, a lack of pathways designed for pedestrians, little space between parking spaces, and too few stop signs.
Poor lighting: Any of the fall hazards previously listed could be compounded by insufficient parking lot lighting. When you are forced to walk across a store parking lot in the dark, you increase your risk of tripping and falling.
If you were injured in a store parking lot incident, contact Hill & Moin today. A personal injury lawyer can investigate your case, identify who is liable for your accident, and help you file a claim for compensation.
Steps to Take After a Slip-and-Fall in a Store
After a slip-and-fall in a store, you may feel embarrassed and tempted to leave the store immediately without even looking back. However, you may be more injured than you initially realized and could require extensive medical treatment.
Failure to immediately report the incident can have a negative effect on your chance of recovering compensation in a claim or lawsuit. However, you can protect your legal rights and the chance to recover compensation by taking the following steps.
Seek medical attention
Your health and safety should be your priority immediately following a slip-and-fall incident. Be careful not to get up or move too fast if you feel pain or discomfort. You could exacerbate your personal injuries by moving too quickly.
Call out for help if necessary. If you believe you need immediate medical assistance, call 911 or ask someone else in the store to call for you.
Even if you feel fine immediately following your fall, you should still visit your doctor as soon as possible. Some serious injuries take several days to manifest symptoms. The medical records from your doctor's visit can establish proof your injuries were caused by the store slip-and-fall accident.
Notify the store owner or manager
Ask to speak to the store owner or manager on duty and inform him or her of your mishap. Let the manager know where the fall accident occurred and what condition caused it (wet floor, lack of signage, or the like). You should also ask for the store's insurance information and request access to the security footage in the area where you fell.
Most large store chains will have a formal process for reporting onsite injuries and incidents. Ask the manager to file an incident report and request a copy for your records.
While speaking to the manager, relay what happened, but be careful not to say anything that could be construed as an admission of fault. Also, take care not to sign anything without speaking to a lawyer. Some stores may try to get you to sign a liability agreement which would prevent you from filing a claim or lawsuit against them.
Collect evidence
Whether or not you can immediately gather evidence will obviously depend on your condition and how badly you are injured. If you have someone shopping with you, ask for help.
The following evidence is beneficial in slip and fall cases:
Photos of what caused you to fall
Video surveillance footage
Eyewitness statements and contact information
Physical evidence such as the shoes you were wearing
If possible, use the camera on your phone to immediately document the accident scene. After you leave, the store property owner may quickly clean up or repair the condition that caused you to fall – removing key evidence.
Contact a slip-and-fall lawyer
It is in your best interests to contact a personal injury attorney as soon as possible following your accident. You can be sure that the store, especially if it is a large chain, is likely to have high-powered lawyers and insurance companies representing them.
Even if you have solid evidence backing your case, the store's lawyers may still try to place the blame on you. An insurance company may try to get you to sign away your right to compensation or pressure you into accepting a fast and low settlement offer.
When you have a skilled lawyer on your side, he or she can defend your legal rights and ensure you receive fair compensation.
Why You Should Not Post About Your Fall on Social Media
The majority of people use some form of social media these days. After a store slip-and-fall, you may be tempted to post pictures of your injuries to inform your friends and family of the incident. You might also be tempted to write a scathing review of the store and share details about your accident and injuries with everyone.
It is in your best interests, though, to refrain from posting anything on social media until your slip and fall case is completely settled. Even if your social media settings are set to "private" so that only friends and family can see your posts, insurance companies may still be able to access your information.
How could an insurance company gain access to your social media posts? When slip and fall cases can't be settled out-of-court, injured victims may choose to file a slip and fall lawsuit.
One part of a personal injury lawsuit is the "discovery phase." During this phase, the lawyers from the other side may request copies of all of your social media posts. They will be looking for contradictory statements you have made, time stamps, and any photos or videos that discredit your case.
Deleting your posts may seem like an option. However, keep in mind that social media companies store anything you have posted on their site, including deleted items. In the past, the court has ruled at times that social media companies hand over all deleted posts.
New York City Slip-and-Falls Cause Serious Injuries
The National Floor Safety Institute (NFSI) reported that slip-and-falls accounted for over 1 million emergency room visits in the US within a single year. If you suffered harm due to a store owner's negligence, you should not have to pay for your medical bills out of pocket.
A lawyer can help you get compensation for all of your personal injuries, including:
Broken bones
Soft tissue damage
Head and back injury
Internal organ damage
Spinal cord damage
Traumatic brain injury
Lost limbs
Who Is Liable for a New York Store Slip-and-Fall Accident?
Slip-and-fall accident cases fall in the category of premises liability. A premises liability claim arises from visitor usage of land or buildings.
New York premises liability law requires all property owners to keep their land and buildings well-maintained and safe for visitors to enter. This means that store owners are legally obligated to keep their premises reasonably safe for all customers, employees, and others.
Generally, in slip and fall cases involving stores, it is the property owner who is held responsible. If a store owner's negligence caused your accident and resulting injuries, you may be able to hold that individual liable for damages.
What Is "Actual Notice" and How Does It Apply to Slip-and-Fall Accidents?
Under New York premises liability law, property owners can be liable for injury-causing hazards on their properties if they knew or should have known about the hazardous condition. A property owner has "actual notice" when he knows about the danger.
A property owner has "constructive notice" of a hazard when it is so obvious that he should have known about it. All property owners, including store owners, have a duty to be aware of the condition of their property. They must promptly repair broken floor tiles, loose handrails, broken light bulbs, and other conditions.
While it can be difficult to prove actual notice, constructive notice can be shown in various ways. Your lawyer will know what evidence is needed to prove the property owner knew or should have known about the dangerous store condition.
How an NYC Premises Liability Attorney Can Help
Even if you feel that the store is obviously to blame for your fall injury and that you have a clear case against them, it is likely that you will face challenges every step of the way. Most businesses will deny liability or try to settle for an unreasonably low amount of money.
When you hire legal representation, you can focus on healing and have the peace of mind that your lawyer is looking out for your best interests.
A slip and fall lawyer can perform the following tasks on your behalf:
Investigate the accident: Look into the cause of your slip-and-fall to determine why it happened and who is to blame
Examine the evidence: Including any you were able to collect and other evidence the lawyer can gather to build your personal injury case
Communicate with the insurance company: Your personal injury lawyer can stand up to insurers that try to devalue or deny your injury claim
Negotiate a settlement: Your slip and fall attorney will work hard to negotiate a just and fair settlement on your behalf
Protect your rights: Your attorney can defend your legal rights if the store tries to blame you for your slip-and-fall accident
Consult with experts: Your legal team may consult with medical professionals, job counselors, engineers, and other experts when filing your claim and calculating your losses
Litigate your case: Your lawyer can take your case to court and present it to a judge and jury if a fair settlement agreement cannot be reached with the at-fault party
Recovering Compensation After Your New York Slip-and-Fall Store Accident
If your slip-and-fall occurred due to the property owner's negligence, you could be entitled to seek compensation for your losses. Your payout amount will depend on the severity of your injuries, the extent of your financial losses, and other factors.
Damages awarded in slip and fall claims and lawsuits commonly include:
Medical bills
Loss of income
Loss of future earning potential
Rehabilitation and therapy
Loss of enjoyment and more
Contact a New York City Slip and Fall Lawyer Today
If you or a family member suffered a serious injury in a New York slip-and-fall accident, we want to help. We can arrange for you to speak to a personal injury lawyer who can answer your questions and inform you of your legal rights and options. Once we take on your slip and fall case, we will work hard to get you the money you deserve.
Our law firm represents slip-and-fall accident victims on a contingency fee basis. This means you do not pay anything out-of-pocket for our legal services. You do not owe us a dime unless your case is successful and you are paid a settlement.
When Hill & Moin evaluates your slip-and-fall accident case, we can direct you as to the best way to handle your case. Depending on your situation, we may take on your case ourselves or direct you to another firm that also treats clients with dignity and kindness.
When you work with our law firm, it's like "having a lawyer in the family."
Call us at (212) 668-6000 or complete the contact form to schedule a free consultation and learn your Personal Injury Recovery Solutions®.
Don't wonder about your rights!